Archived
Follow the links to find learning for your year group.
---
Learning From Home:
Please click on the link below and answer the questions so we know who has done the work and what you may need help with (please complete this every day).
---
Weekly message from Mr Martin
8th June
Some children come back to school this week. Find out how this will happen.
We are starting to make plans to get children in Preschool, Reception, Year 1 and Year 6 back into school from the 8th June. Things will be different to keep everyone safe and well. Find out more in the video below or in the document called 'GPA Return to School Guidance' at the bottom of this page.
---
Idris' Guide to Ramadan
Everyone Worries by Jon Burgerman
The Book of Hopes: Words and Pictures to Comfort, Inspire and Entertain Children in Lockdown (Edited by Katherine Rundell, with contributions from more than 100 children's writers and illustrators)
---
We Miss You! Watch our video message to all our pupils and families. (2nd May)
---
What have you been up to? (29th April)
---
Video message from everyone at Gladstone (27th April)
---
Online Safety - Message from Mr Fountain (22nd April)
Dear Parents and Carers,
I hope that this message finds you all well in this difficult time. As the lockdown continues, children across the country are spending more and more time online. Along with all the benefits of online line activity, there are of course many risks. We would like to share a website from the NSPCC which contains very helpful information on keeping your child safe online, including how to use parental controls across a number of different devices, including Playstations and Xboxes. The website is found here:
https://www.nspcc.org.uk/keeping-children-safe/online-safety/
Important questions that you can ask your self when considering how safe your child is:
Does my child use the internet in a private (like their bedroom) or a public place (like a family room)?
Do I look at the chat history of my child?
Is their 'friend' list too long ? Does it contain strangers?
Do you look through your child's online accounts with them?
Do you know what all the different APPs on their devices enable others to do?
When did you last look at what your child has posted to see if there are any personal details included (for example wearing a school jumper)?
There are currently nearly 100 cybercrimes against children being reported every day and many more going unreported.
If you have any concerns or would like further support with online safety then please contact the Academy either by phone or on
office@gpa.education
Yours sincerely,
Mr Paul Fountain
Assistant Head for Pastoral and Welfare
Message from Mr Martin (29th March)
Hello Everyone,
I hope everyone is well and following the advice to stay home and stay safe. I loved seeing all of your rainbow pictures with the message we will get through this…and we will get through this. I particularly liked this one with the school in the background.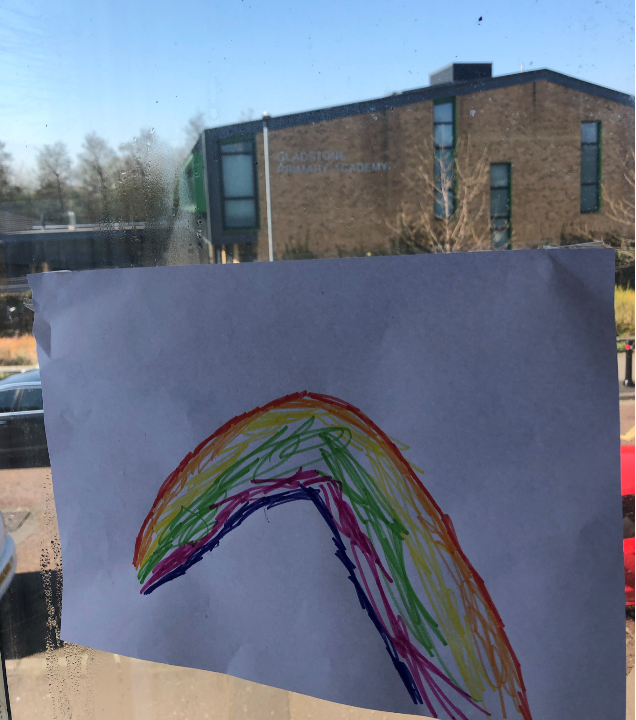 Everything feels very different at the moment, but remember by staying home you are helping everyone stay safe and helping the NHS. Here is a nice video that explains why it is important to keep away from other people at the moment.
https://www.bbc.co.uk/newsround/51989370
Times like this can make anyone feel worried or scared, even adults. Some of what you see or hear might sound confusing or scary, so it's normal to have some worries. Here are some things to do if you are feeling worried -

Don't bottle up your worries - talk to a trusted adult.
If you're worried about elderly relatives, find different ways to keep in touch with them, such as video calling.
Get your information from trusted sources.
Don't worry about what you can't control, but do what you can to help, for example washing your hands regularly.
Do things that you enjoy and keep yourself busy.
We can't wait to see everyone back at school and I think we will have a big party to celebrate.
Best wishes,
Mr Martin.
Home Learning Survey
We would like to know how well Gladstone are doing with getting work to our school children - either via the school website, or through email for Year 5 and Year 6 children.
Please complete this short survey so we know how we are doing:
https://forms.office.com/Pages/ResponsePage.aspx?id=nowK81Jo8E2Ms5kmm08dZr7Hnw-EhHRKrelelTn4opJUOTlURThZRDhKUTQ4OVdWR1IzMUJQUkY2NS4u
Thank you, keep safe!