COVID-19 Updates
22nd May 2020
Dear Parents and Carers,
Returning to school
We are currently making contact with all our Reception, Year 1 and Year 6 families to explain the latest situation on those year groups returning to school. You will have seen recent news stories to say that schools will reopen on 1st June for some year groups. The staff at Gladstone Primary Academy are working hard to ensure that school does open in some capacity as soon as possible after half term, however our main priority is making sure that school is a safe and friendly environment for staff and pupils that are on site.
Therefore Gladstone Primary Academy will not re-open on Monday 1st June, whilst we put these safety measures in place. We will be contacting all Reception, Year 1 and Year 6 families during the week commencing 1st June to let you know of further details and arrangements, ready to return to school on Monday 8th June.
To help make this clear:
| | | | |
| --- | --- | --- | --- |
| | wc 25th May | wc 1st June | wc 8th June |
| Reception | Half Term | Online learning | Return to school - following guidance |
| Year 1 | Half Term | Online learning | Return to school - following guidance |
| Year 2 | Half Term | Online learning | Online learning |
| Year 3 | Half Term | Online learning | Online learning |
| Year 4 | Half Term | Online learning | Online learning |
| Year 5 | Half Term | Online learning | Online learning |
| Year 6 | Half Term | Online learning | Return to school - following guidance |
Once we have made contact to Reception, Year 1 and Year 6 during week commencing 1st June, we will then ask families to indicate if their child/ren will be returning to school so that we get an idea of pupil numbers on site. Please also have a read of the key messages about the phased reopening of school. In the meantime, enjoy the half term week, take care of yourselves and stay safe.
With best wishes from all at Gladstone,
Mr Simon Martin
Headteacher
Key Messages About the Phased Reopening of School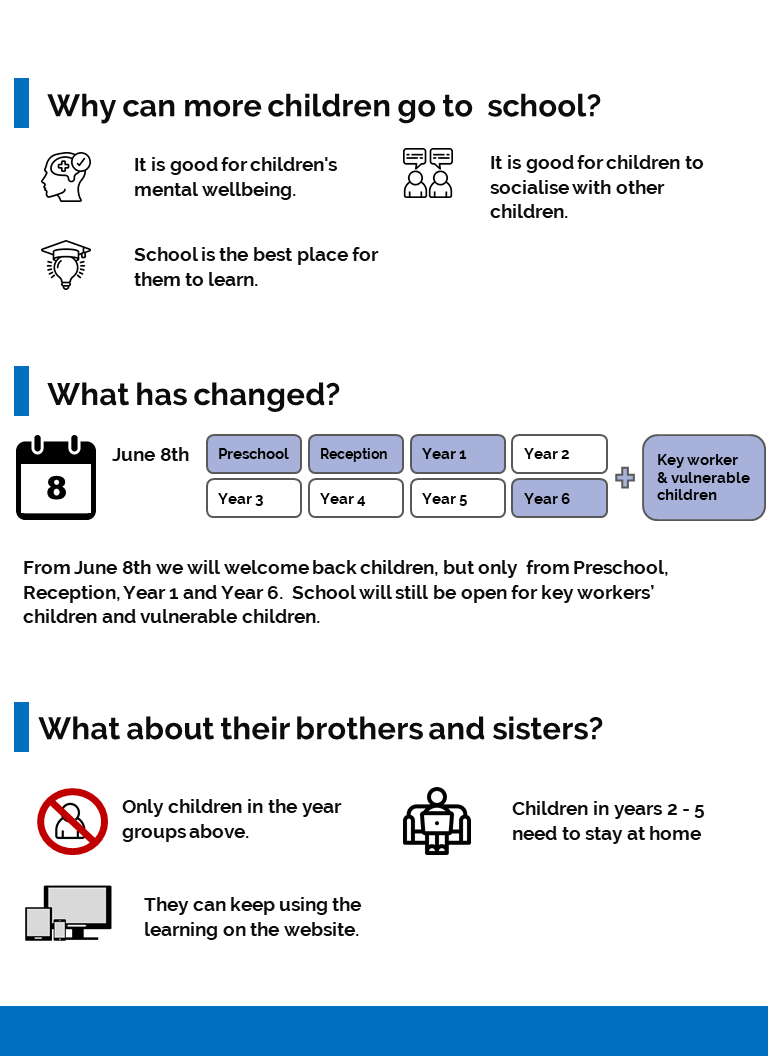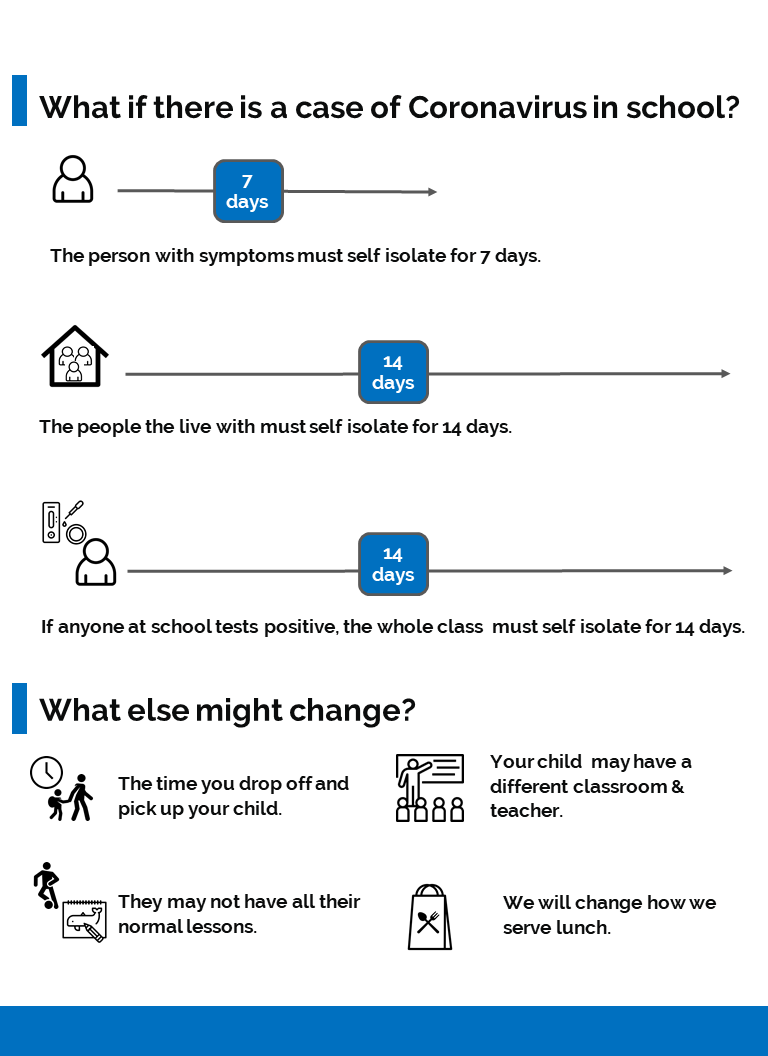 ---
Update - Monday 18th May
In recent days, false information has emerged on social media that children will be taken away from their parents for quarantine in connection with the COVID-19 pandemic. We would like to assure all parents that this is false information
Polish translation
W ostatnich dniach w mediach społecznościowych pojawiły się fałszywe informacje, że w związku pandemia COVID-19 dzieci będą odbierane rodzicom w celu odbycia kwarantanny. Chcielibyśmy zapewnić wszystkich rodziców, że to nieprawdziwe informacje.
Video by Petr Torak (Slovak tranlation)
Video (Romanian translation)
Letter for all parents/carers from TDET - Friday 15th May
Dear Parent/Carer,
This is a short initial communication around the more extensive opening of academies in the Thomas Deacon Education Trust. Over the next few weeks, we'll be working hard to produce more detailed documentation around the things we will be doing to secure your child's safety on site for when they return to their school. I hope it will go some way towards alleviating the concerns you may have and to reassure you. The following is a very brief introduction to the return to school. There is a lot of information for us to build in to our risk assessment (classrooms, drop off/pick up, break times, playgrounds, canteen, lunches, cleaning rotas, staff rotas, transport to and from school) and to convey this information will be an extensive document. Your Principal/Headteacher will communicate these plans with you, but I wanted to write to you to give information, so you have a view of what we'll be doing across the TDET family of schools.
Who will be returning to school?
Reception, Year 1 and Year 6. There are suggestions around Year 10 and Year 12 returning in some form, but this is lacking detail from the Department for Education as yet.
Why have these year groups been picked?
The three year groups have been priorities because they are key transition years – children in Reception and Year 1 are at the very beginning of their school career and are mastering the essential basics, including counting and the fundamentals of reading and writing, and learning to socialise with their peers. Year 6 children are finishing Key Stage 2 and are preparing for the transition to secondary school and will benefit immensely from time with their friends and teachers to ensure they are ready.
When are they going back to school?
We will begin to bring children back into school in these year groups from Monday 8th June. Your Principal/Headteacher will give you clear information about the arrangements for your children in your school.
What is the science saying about children in school?
The DfE guidance is underpinned by their latest understanding of the science, which indicates that we need to take a phased approach to limit the risk of increasing the rate of transmission (often referred to as R) above 1. They have factored in:
severity of disease in children – there is high scientific confidence that children of all ages have less severe symptoms than adults if they contract coronavirus (COVID-19)
the age of children – there is moderately high scientific confidence that younger children are less likely to become unwell if infected with coronavirus (COVID-19)
numbers of children going back – which needs to be limited initially then increased gradually as the science permits
systems to reduce the size of the groups coming into contact with each other – such as smaller class sizes spread out across settings
What measures are the DfE suggesting schools take?
One of the protective measures suggested that schools take to reduce transmission is to have smaller group and class sizes. The DfE says that, unlike older children and adults, early years and primary age children cannot be expected to remain 2m apart from each other and staff. Schools, the DfE state, should therefore work through the hierarchy of measures set out in their guidance which will form the basis for our more detailed response.
In short, they are:
avoiding contact with anyone with symptoms
frequent hand cleaning and good hygiene practices
regular cleaning of settings
minimising contact and mixing
It is still important to reduce contact between children and staff as far as possible, and settings can take steps to achieve that and reduce transmission risk by ensuring children, and staff where possible, mix in a small group and keep that small group away from other people and groups. The DfE have stated that schools should look to have around 15 in a class when they re-open. For most of our classes, this is not possible, and our class sizes will be around 10. Due to the nature of our sites, Reception, Year 1 and Year 6 are, on their return to school, able to have their own classrooms. We will need to manage carefully their access to toilets and handwashing facilities. This goes a long way to mitigating risk of transmission. More details will be provided in due course.
Will the school day be as normal?
No. Each year group on their return will have amended drop off and pick up times to keep the year groups separate and limit contact amongst parents too. Some of our schools may only offer a shortened day as lunchtime arrangements may prove to be difficult to organise safely.
My child has been working hard at home and the remote learning has been good. Can they stay at home until after the summer holidays and return in September?
The government and the Local Authority are not going to impose fines for non-attendance during this time. The decision rests with you. We're exploring the options for what we can do over this period to try and give as much support to you to continue home-learning.
I have children in other year groups and I need to go back to work – can they come to school?
Your Principal/Headteacher will have sent out a questionnaire to gather information about this option. All our planning is subject to government guidance but if we can provide care for children not in the priority year groups, we will try to accommodate it. However, it may not be possible due to the number of children in school and the number of staff available.
Will provision still be in place for the children of Key Workers, and other vulnerable children, regardless of their year group?
Yes. The hub approach will end and from 8th June, these children will attend provision at their own school.
I do not have all the answers as yet and with all of our TDET Principals and Headteachers, I am working hard to find answers to enable us to bring some of our children back into school safely and carefully. The safety and well-being of children and staff is at the heart of the decisions we are making, and we will continue to keep you updated as we move forward.
In the meantime, take care of yourselves and stay safe.
Best wishes,
Mrs J Taylor, Chief Executive
Announcement 11th May regarding possible phased re-opening
Dear Parent / Carer,
I write following the Prime Minister's announcement on Sunday of a phased plan to beat the virus and provide a road map for re-opening society. This may lead to an easing of the restrictions that have been put in place to minimise the spread of COVID-19 in relation to schools.
I recognise that this has been a very stressful time for young people and their families. I am sure we are all looking forward to children returning to school when it is safe for this to happen. Gladstone Primary Academy will be following the government guidance, as soon as it is released, to enable this.
Our top priority is the safety of pupils, their families and school staff. Safety has to take priority over any other consideration. Every school's circumstances are different and will not be able to respond to the government's decisions in the same way. The Academy will evaluate the size of classrooms and play areas to ensure children can be safely accommodated, along with the number of staff required. This may limit the number of children who can be accommodated safely under social distancing rules and staffing shortages may limit the speed at which pupils can return.
The Academy is awaiting further advice from the Department for Education and needs time to plan. We are working with the Trust to make the necessary arrangements. We will communicate those arrangements to parents as quickly as we can.
Gladstone Primary Academy will continue to provide childcare for children of critical workers and vulnerable pupils in line with national guidance but capacity will be limited especially with more people returning to work.
Gladstone Primary will also continue to provide support for home learning until guidance for doing so changes.
To support Gladstone Primary Academy at this time, please try not to make contact about re-opening arrangements unless your enquiry is an urgent one. Please be assured that, further to the announcement, we will communicate with you as quickly as possible.
Best wishes,
Simon Martin
Headteacher
---
Free School Meals - How to apply
We understand that the times we are currently living in are both uncertain and challenging. Alongside this, many families are facing changes in their financial circumstances. If your circumstances have changed and you feel that you now meet the following criteria outlined below, please complete the form on the link below;
You can apply for free school meals online using your Norfolk Education Online (NEO) account.
https://fiso.norfolk.gov.uk/synergy/Enquiries/Citizen/FreeSchoolMeals.aspx
Income Support.
Income-Based Job Seekers Allowance.
Income-related Employment and Support Allowance.
Child Tax Credit - but no element of Working Tax Credit - and have an annual income (as assessed by HM Revenue and Customs (HMRC)) that does not exceed £16,190.
If you are supported under Part VI of the Immigration and Asylum Act 1999.
Guarantee element of State Pension Credit.
Working Tax Credit during the four week period immediately after your employment finishes or after you start to work fewer hours per week.
Universal Credit with an annual net earned income of no more than £7,400 (as from 1 April 2018).
Further Information:
Click here for information from the Thomas Deacon Education Trust:
https://www.tdet.education/page/?title=Covid%2D19&pid=48
---
School update:
20th March 2020
Dear Parent/Carer
SCHOOL CLOSED
Gladstone Primary Academy will be closing from the end of the day today Friday 20th March, along with schools across the country to help slow the spread of the COVID-19 virus.
We do not know when we will reopen. Please watch the news to see when schools will open again.
We will be closed for the vast majority of children. We will be open for a small number of children of critical workers and other identified children. Please do not send your child to school if they are not in one of these groups. If you are a critical worker and need childcare, please see the separate letter being sent out today. We will be contacting families of identified children about coming into school.
Learning at home
We will be providing work for children on our website at www.gpa.education . New work will be added each day and will follow the lessons that your child would have had if they were in school. There is a tab on the home page labelled 'Learning at Home'. This is where teachers will upload work for your child/children. Your child may have brought home an exercise book this week. You may use this for your child to complete activities set by their teachers. School staff will do their best to deliver a book to your home if you haven't already got one. Please continue to read every night and complete the reading diary. We would appreciate your support in educating your child at this time.
Free School Meals
We are working on how we will provide meals for those children who have free school meals. This may be vouchers you can spend on food in shops, or food provided by the school or other groups. Once this has been decided we will contact you with the details.
Contacts
If you have any issues or problems please contact the school, by phone on 01733 343908 between 9am and 3pm, Monday to Friday. We are here to help and support. Teachers' emails are on the website and please contact them if you need help with home learning.
I would like to thank all the staff at Gladstone Primary Academy, for continuing to do all they can to support children and help children learn over this difficult time. All the staff at school and I wish you all the best and we look forward to seeing everyone back at school at some time in the future.
Kind regards,
Mr Simon Martin
Headteacher
---
Further Information
Here is a great resource from our friends at ELSA Support, explaining Corona Virus for children. You may want to read this with your child.
https://www.elsa-support.co.uk/wp-content/uploads/2020/03/Childrens-story-about-coronavirus.pdf
(Copyright ELSA Support)
Hand Washing