Governance
Gladstone Primary Academy is part of the Thomas Deacon Education Trust. This is an organisation dedicated to raising educational outcomes across a range of primary and secondary phase schools and academies in the East Midlands.
Governance is shared between the Trust and the Academy Committee. How these responsibilities are apportioned can be found in the Scheme of Delegation on the TDET website.
The following documents and information can be found on the TDET website.
Articles of association
Funding agreement
Annual audited accounts
Annual report
Register of interests for the accounting officer
The number of employees (and payees with off-payroll arrangements) whose gross annual salary and benefits exceed £100,000.
The Academy Committee is responsible for ensuring high-quality teaching and learning and good outcomes for pupils.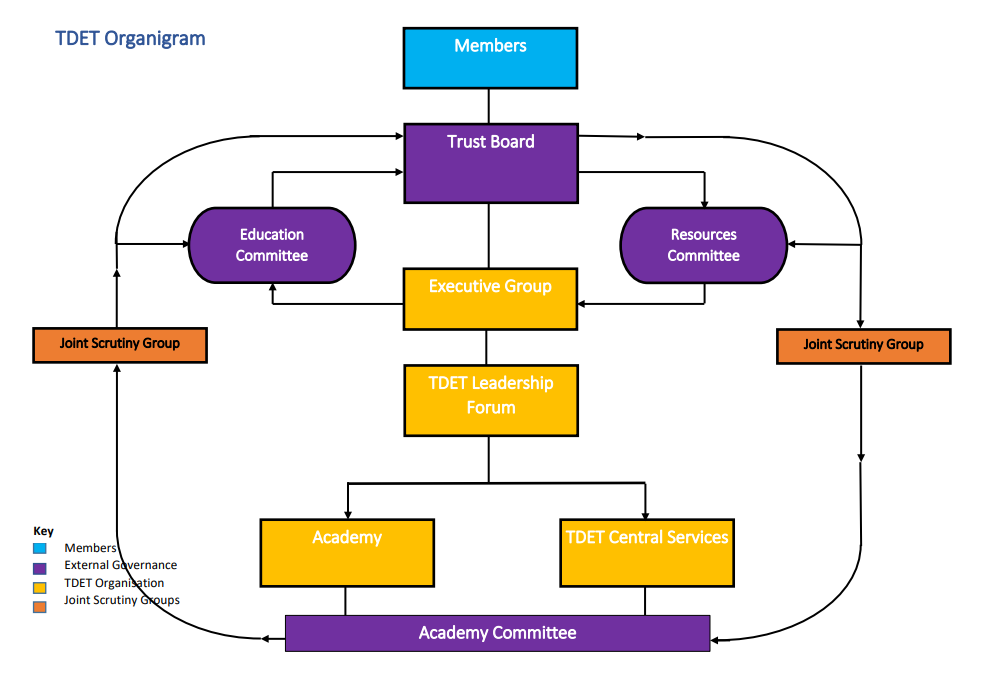 Local Governing Body Membership
Full details, including term of office, date of appointment, and who appointed them are available here.
Chair of Academy Committee, John Turner
John has worked in the charity/voluntary sector for over 15 years within tourism, environmental, and health and social care organisations. This has involved creating educational workshops, supporting young carers and their families, supporting transitional change, ensuring compliance, and enabling quality improvement. John is also a trustee of the Thomas Deacon Foundation and sits on Thomas Deacon Academy's academy committee. John is a former pupil of Gladstone Primary School.
Contact details - Gladstone Primary Academy, Gladstone Street, Peterborough, PE1 2AN
(john.turner@gpa.education)

John is the safeguarding link member.
Kathy Fountain

Kathy Fountain is a recently retired, primary headteacher, has a particular interest in SEND, and is a member of the local SEND panel.
Alan Sadler

Alan has been a school governor since 1999 with 2 spells as Chairman working with the last 3 head teachers at Jack Hunt School. More recently he chaired the steering group enabling the Peterborough Keys Academy (PKAT) to achieve academy status on 1st April 2018. Alan is currently a Member of Hampton Academies Trust, a Trustee of Peterborough Keys Academy Trust, Vice Chairman of the JHS LGB, and a Gladstone Primary Academy Governor. He is an active member of the Governor Leadership Group with a special interest in learning from and sharing good practice with Hampton College. As a member of the Interim Executive Board (IEB) he monitored Hereward College prior to its amalgamation into Thomas Deacon Academy and has also served on the IEB that has successfully initiated Gladstone Primary's recovery from Special Measures.
Alan is married with 2 grown-up sons and has lived in Peterborough since 1984. He keeps himself fit through swimming and running and retains an interest in Scouting.
Lloyd Thompson

Lloyd has been a Teaching Assistant, School Receptionist, Midday Assistant, Caretaker, Teacher and Middle Leader at several schools across the UK, inlcuding Birmingham and Peterborough. He now works for Perkins Engines, a sponsor of Thomas Deacon Education Trust and has a particular interest in raising the English language skills of all pupils.
Sukaina Manji
Sukaina is a qualified Teacher of Ethics, Philosophy and Humanities. She holds a Masters in Education and is passionate in empowering young learners to develop their future skills and abilities.
Sukaina also holds a Certificate in Muslim Chaplaincy and she is actively involved in both community and Interfaith work. Currently, she is the Chair of the Peterborough Standing Advisory Council for Religious Education (SACRE).
Deborah Wortman

Deborah Wortman has a background in Safeguarding and worked for the Local Authority for over 25 years. She retrained as a psychotherapist in 2000 and now runs her own psychotherapy practice she is a specialist psychotherapist working with autistic and ADHD clients. She is particularly interested in SEND and the importance of enabling children to achieve their potential.
Clerk to Academy Committee:
Isabel Clark (isabel.clark@peterborough.gov.uk)
TDET Register of Interests
https://www.tdet.education/page/?title=Register+of+Interest&pid=59
Academy Committee Meeting Dates
Thursday 21st October 2021
Thursday 9th December 2021
Thursday 3rd February 2022
Thursday 17th March 2022
Thursday 19th May 2022
Thursday 14th July 2022
Local Governing Body Terms of Reference
Role
The role of the Academy Committee is important in providing focused governance for each individual academy at a local level. It monitors the academy's key performance indicators and acts as a critical friend to the Principal and the senior leadership team, providing support and challenge as appropriate.
Academy Committees carry out their functions in relation to their respective academy on behalf of the Trust Board and in accordance with policies determined by the Trust Board. The Trust Scheme of Delegation sets out clearly the delegation of powers, duties and responsibilities. The Trust Board has ultimate responsibility and accountability and retains the right to overrule a decision of the Academy Committee and/or to remove delegated powers should they consider it to be in the best interest of the academy or the wider Thomas Deacon Education Trust.
Membership
Membership of the Academy Committee will comprise:
Principal

Other suitable skilled individuals meeting the criteria for appointment (parents may be part of this group)
Each Academy Committee should comprise at least five committee members – requiring a minimum of three (or 50% plus one – whichever is the larger) to be quorate for any meeting. The term of office for any committee member shall be four years. This term of office does not apply to the Principal. Subject to remaining eligible, any committee member may be reappointed or re-elected.
All Academy Committee members will be subject to enhanced DBS checks and will be required to declare pecuniary interests. Appointment of all Academy Committee members shall be approved by the Academy Committee. The Chair is appointed by the Academy Committee and approved by the Trust Board. The expectations of the Chair are outlined in Appendix 2.
An Academy Committee member's term of office may be terminated if:
Any event or circumstance occurs which would disqualify them from office.

They fail to attend three consecutive meetings.

They are deemed to have acted inappropriately or adversely affected the reputation or smooth running of the academy or wider Trust.
Expectations
In line with the Trusts code of conduct for governance, Academy Committee members are expected to:
Promote the ethos, values and aims of the Trust and the academy at all times, particularly within the local community.

Adhere to the governance code of conduct.

Attend all meetings having read and considered documents circulated in advance of the meeting.
Carry out pre-arranged visits to the academy during the school day as appropriate.

Take a wide strategic view of the academy rather than day-to-day operations.

Provide a positive role model to pupils, staff, and parents within the wider community.

Familiarise themselves with the Trust/academy's policies.

Attend training sessions as appropriate in order to demonstrate their commitment to developing their own knowledge and skills.
Key Functions of the Academy Committee
In line with the Trust's Scheme of Delegation, the main functions of the Academy Committee can be summarised as:
To set the strategic objectives of the academy (in line with the Trust's strategic plan).

To set the Academy Annual Action Plan (in line with the academy's strategic objectives).
To ensure and review the completion of the academy Self-Evaluation Form.

To oversee the Quality of Education and ensure the TDET curriculum framework is developed and implemented in context.

To monitor the achievement gap of identified sub-groups and ensure value for money of specific grants, eg Pupil Premium.

To monitor academy policies.

To monitor the academy risk register.
To monitor the staffing strategy for the academy and be involved (as appropriate) in staffing appointments including the Principal and SLT posts.
Further detail relating to these functions is outlined in Appendix 1.
Appendix 1
Key functions of the Academy Committee (detail)
Specifically, the Academy Committee should:
Promote the vision and values of the Thomas Deacon Education Trust and their academy or setting.

Determine the educational character, vision and ethos of the academy to reflect the wider vision and ethos of the Trust.

Ensure the academy has a medium to long term view for its future and a robust strategy for achieving it.

Ensure effective communication between parents, pupils and staff.
Establish strong community relationships.

Hear complaints in line with Trust policy.

Oversee arrangements for individual Academy Committee members to take a leading role and report regularly on specific areas of provision as identified in the academy annual action plan.
Quality of Education (Curriculum and Standards)
Monitor standards and other matters relating to the academy's curriculum in the Early Years and all other Key Stages, including statutory requirements and the academy's Curriculum Policy.

Monitor the progress and attainment targets set for the academy for all Key Stages.

Effectively review the academy Self-Evaluation Form, ensuring that identified priorities inform the Academy Annual Action Plan.

Ensure that identified priorities are followed up and measured for impact.

Monitor and report to the Director of Education any curricular issues which have implications for finance and personnel decisions.
Review attendance and pupil absence against set targets.

Monitor the impact of specific grant spend on pupil outcomes.

Review special needs provision on a termly basis, ensuring needs of all pupils are met
Safeguarding and SEN
Appoint a designated Academy Committee member for safeguarding, SEND and looked after children.

Monitor child protection and safeguarding procedures including the annual statement.
Ensure the Trust's safeguarding and child protection policy is adhered to fully by all staff.

Ensure the Trust SEND policy is implemented in compliance with the statutory framework.

Ensure publication of the SEND local offer and SEND report on the academy website.
Behaviour
Develop, review and maintain the behaviour policy.

Convene a committee to review any permanent exclusions made by the Principal.
Staffing
Ensure the Trust's HR policies are implemented and that the academy carries out its duties in line with these policies and processes.
Health and Safety
Ensure the effective implementation of the Trust H&S policy.
Data Protection
Establish and maintain a positive data protection culture for the academy.

Adopt the Data Protection policy approved by the Trust Board.

Work with the Trust Board to review and act upon data protection compliance reports from the Data Protection Officer.
Appendix 2
Chair of Academy Committee Responsibilities
Chair the meeting.

Set the agenda in consultation with the Principal and Governance Officer, after first taking account of the requirements of the Trust Board's Annual Governance Calendar of Agenda items.
Determine whether the Academy Committee has the required quorum where a vote needs to be taken. If such a vote results in an equal division of votes, the Chair has a casting vote.

Report back to the Trust Board as required.

Ensure all members of the Academy Committee carry out their duties appropriately.

Meet regularly with the Principal.

Liaise with the Principal and/or the Senior Leadership Team to keep up to date with academy developments and action plans.
Liaise with the Clerk to the Academy Committee and governance as appropriate.

Convene additional meetings of the Academy Committee as and when required.
Minutes
Recent minutes can be downloaded below