Learning
We believe that all children deserve an engaging and rounded education that supports academic achievement, but also develops the skills, knowledge and qualities needed to flourish in life, learning and work.
Our Learning and Teaching Policy is based on the idea that you have to be challenged to learn something new. This is represented as a learning line.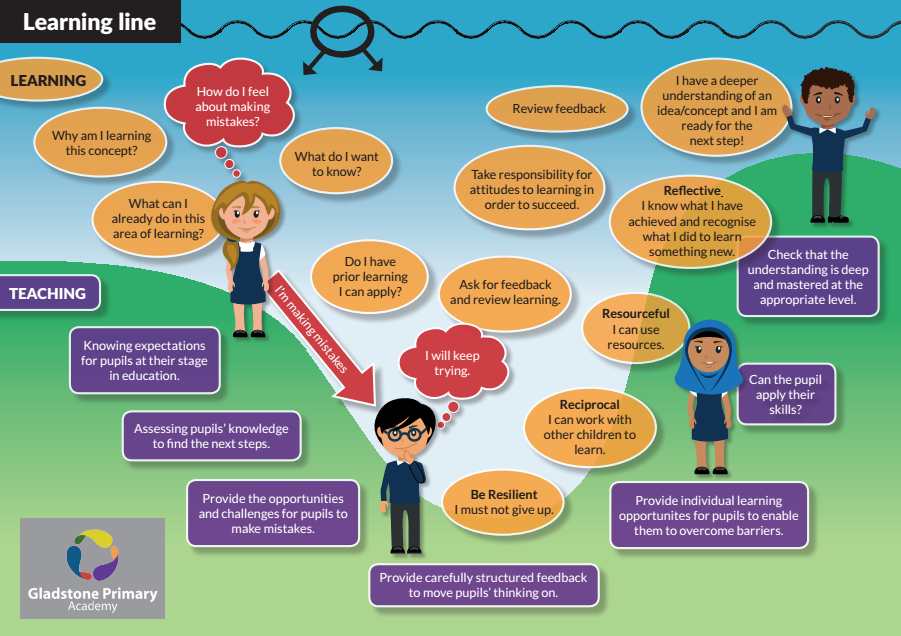 The learning line represents learning in a continuous way, making it clear that learning is an ongoing process. We have magnified a part of that process in order to have a clear, shared understanding of how we learn. The statements above the line model what pupils can do along their learning journey and the sections below explain what the teacher's role could be whilst supporting pupils to learn.
Each classroom has a learning line display that is interactive. Pupils use this regularly to show their understanding of the learning process and can discuss this with adults and their peers. Pupils also have an understanding of strategies that can be used to support learning and can apply these during the 'dip' of the learning line. They recognise that in order to learn, you often make mistakes and therefore develop your skills accordingly.
The learning line is supported by 'certainties' that are part of every classroom and lesson.