Welcome to Reception
The Teaching Team
| | |
| --- | --- |
| Laura Wales | Assistant Head for EYFS - Preschool & Reception |
| Margaret Brand | Reception Class Teacher |
| Joanna Moore | Reception Class Teacher |
The Curriculum
We value all 7 areas of learning and development within the EYFS framework, recognising they are equally important and inter-connected. The prime areas are particularly important for igniting curiosity and enthusiasm for learning, and for building children's capacity to learn, form relationships and thrive.
The prime areas are:
Communication and language
Physical development
Personal, social and emotional development
The prime areas are strengthened and applied through 4 specific areas:
Literacy
Mathematics
Understanding the world
Expressive arts and design
Each area of learning and development is implemented through a modelled and guided teaching approach. The children are taught as a whole class or in smaller groups and have opportunities for partner practice and independent learning.
Staff respond to each child's emerging needs and interests, guiding their development through warm, positive interaction. During planned and child-initiated activities, adults play an important role in modelling language: explaining, encouraging, questioning, recalling and providing a narrative.
Great importance is placed on creating a positive and safe emotional environment. To promote well-being and physical activity, children access both the indoor and outdoor learning environments daily.
As children grow older, and as their development allows, the balance gradually shifts towards more adult-led activities to help children prepare for the transition to year 1. The early learning goals summarise the knowledge, skills and understanding that all young children should have gained by the end of the Reception year.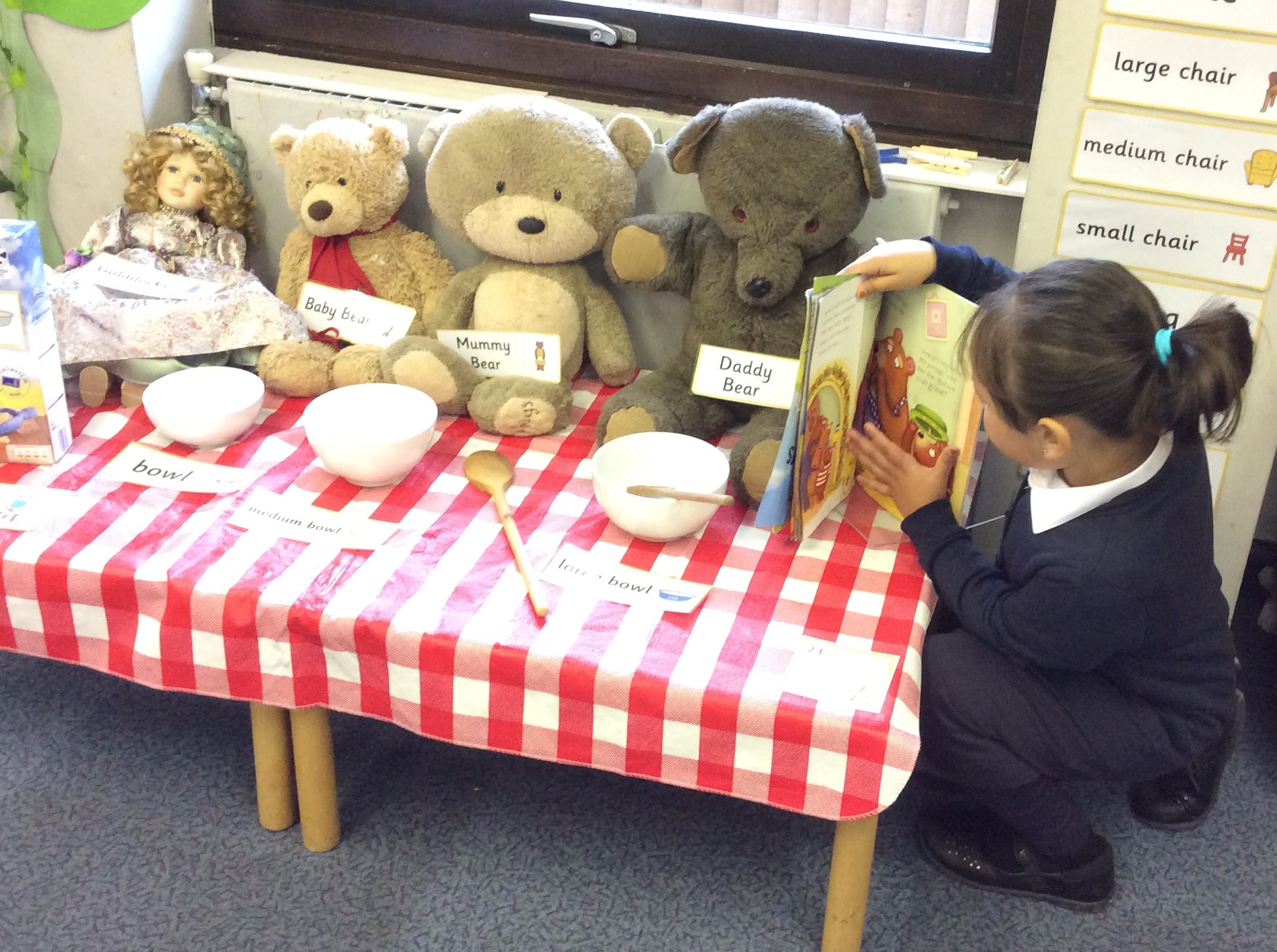 Tapestry
Tapestry is an online learning journal we use to share children's learning and achievements. Parents have immediate access to photos and videos and are able to contribute by leaving comments and uploading observations from home.
Oral Hygiene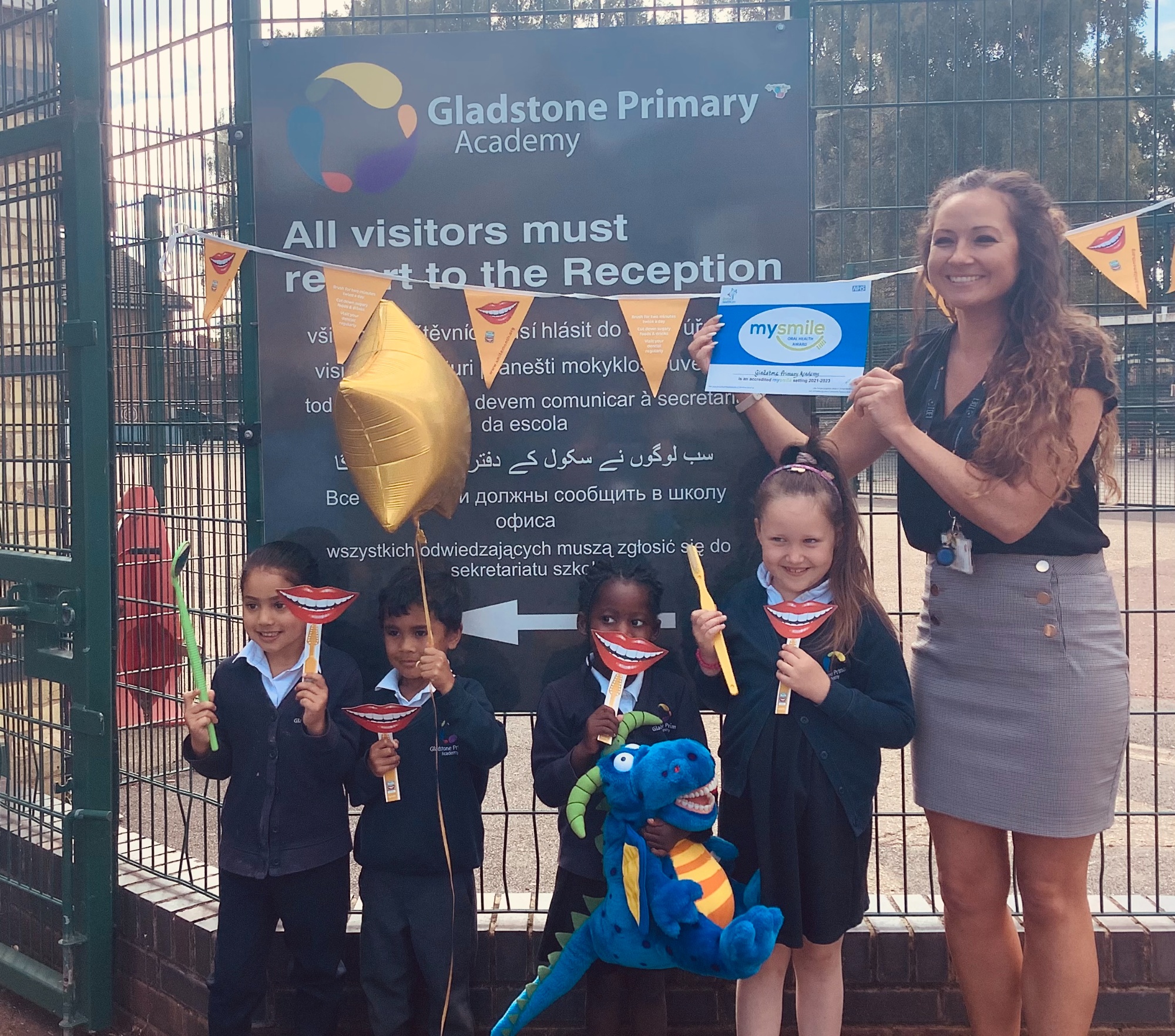 During the school year, children will be developing an understanding of oral health through self-care, healthy eating and physical development.
We are committed to promoting good oral hygiene and offer supervised toothbrushing during the school day to develop lifelong oral health hygiene.
The NHS Dental Healthcare team recognised our commitment to promoting good oral hygiene by presenting us with the MySmile Award 2022.
Book Bag
Please ensure your child has their book bag in school every day. Your child will have a story book for you to share and enjoy together. Your child will also have a phonetically decodable book that contains the specific grapheme–phoneme correspondences, that your child has learnt and can practise when reading at home.
You will gain information about school via parent apps, but some messages will come home in the bookbag, so please check each evening.
Outdoors
Children have access to the outdoors throughout the day. Please ensure your child has appropriate clothes to go outside in all weathers.
In Autumn/Winter – Warm coat, scarf, hat, gloves and wellies
In Spring/Summer – Sun hat, sun cream
We have outdoor suits for the children to wear when enjoying Mud and water play.
PE
Reception have PE sessions on Wednesday afternoons, therefore we ask children to come to school dressed appropriately for PE every Wednesday.
It is useful to provide extra pants and socks and a change of clothes in the PE bag in case of any accidents.
The Early Learning Goals
The level of development children should be expected to have attained by the end of the EYFS is defined by the early learning goals (ELGs). The ELGs support teachers to make a holistic, best-fit judgement about a child's development, and their readiness for year 1. Teachers complete the EYFS profile within the Summer term of the Reception year. For further information, see link below.
Early years foundation stage (EYFS) statutory framework - GOV.UK (www.gov.uk)
Active learning
Creating and thinking critically
Playing and exploring
Assessments
We complete the statutory Reception Baseline Assessment (RBA) within the first 6 weeks a child is in school. The RBA is a short task-based assessment, pupils use practical resources to complete tasks with their teacher. Each child will receive a score, the data will only be used at the end of year 6 to form the school-level progress measure.
Assessment is ongoing throughout the academic year but the official EYFS profile for each child is completed in the final term of Reception.
On leaving the Foundation Stage at the end of Reception, a child is considered to have a Good Level of Development if they have achieved at least the expected level in the Early Learning Goals in all aspects of PSE, Physical development, Communication and language, Literacy and Mathematics.
Home Learning
Read together every day. Reading with your child continues to be really important so keep reading lots of different books together. It is good for children to listen to a story or information book and talk about the pictures with you.
Listen to your child read: Your child will bring home 'decodable' books from school, these books are designed to allow your child to learn how to read independently. The books help children apply their phonic skills – fast blending the sounds to read words on the page. Be patient and be impressed!